Avant-première de Ghost in the Shell Arise 3 au Grand Rex
Ayant acquis les droits de la licence, les éditions @Anime nous annoncent une projection exclusive du troisième volet de Ghost in the Shell Arise, intitulé "Ghost Tears". Il sera diffusé le 28 juin 2014 à 20:30, en simultané avec le Japon !
En cette occasion, le manga humoristique de Masayuki Yamamoto dérivé de la série, Logicomanga, sera offert à tous les spectateurs de cette séance exceptionnelle. Le coffret DVD/Bluray réunissant les deux premiers volets de Ghost in the Shell Arise sera également proposé à la vente en avant-première.
Réservations sur le site du Grand Rex : -> ICI <-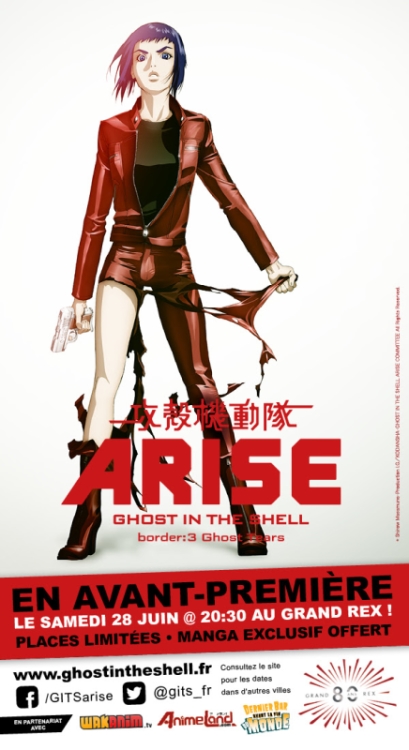 Synopsis:
En 2027, après la fin d'une Guerre Mondiale, assistez aux actes fondateurs de la célèbre Brigade 501. Motoko et Batou se font passer pour des amants en vacances pour arrêter une organisation terroriste. Au même moment, Togusa enquête sur l'assassinat d'un homme qui portaint une prothèse de jambe produite par la corporation Mermaid's Leg.
Source: Site officiel
Ajouter un commentaire