Boruto - Naruto the movie : le casting vocal au complet
La 32ème édition du magazine Shônen Jump, sorti la semaine dernière au Japon, a présenté de nouvelles informations sur le film Boruto - Naruto the movie, nouveau film de la saga Naruto qui arrivera dans les salles japonaises le 7 Août prochain.
Sur une double page couleur, le magazine a posé l'organigramme des personnages de la nouvelle génération des ninjas de Konoha, révélant l'identité de certains comédiens de doublage qui n'avaient pas encore été annoncés.
*Attention, spoilers !*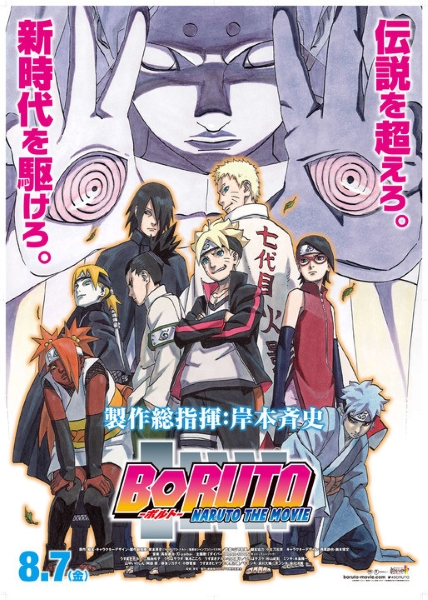 Pour rappel, ce nouveau film nous fait suivre l'apprentissage du ninjustu de Boruto, le fils de Naruto et Hinata, qui a décidé de se faire entraîner par Sasuke. Il sera intégré à un trio de jeunes ninjas, en compagnie d'un jeune garçon nommé Mitsuki, et de Sarada, la fille de Sasuke et de Sakura. Pendant ce temps, Naruto, devenu le septième hokage, doit protéger le village d'une nouvelle menace, portée par deux individus : Momoshiki et Kinshiki.
Pour le casting, nous retrouvons Junko Takeuchi, Noriaki Sugiyama et Chie Nakamura dans les rôles de Naruto, Sasuke et Sakura. Pour le trio principal Boruto est incarné par Yuko Sanpei, Sarada parKokoro Kikuchi et Mitsuki par Ryûichi Kijima.
Le reste du casting se compose de :
- Daisuke Namikawa : Momoshiki, le principal antagoniste du film
- Hiroki Yasumoto : Kinshiki, le subordonné de Kinshiki
- Saori Hayami : Himawari Uzumaki, la petite soeur de Boruto
- Atsushi Abe : Inojin Yamanaka, le fils de Sai et Ino
- Kensho Ono : Shikadai Nara, le fils de Shikamaru et Temari
- Satoshi Hino : Sai
- Yoichi Masukawa : Rock Lee
- Hidenori Takahashi : Konohamaru Sarutobi
- Nana Mizuki : Hinata Uzumaki
- Showtaro Morikubo : Shikamaru
- Hana Takeda : Kurotsuchi (Tsuchikage)
- Kouki Miyata : Chōjūrō (Mizukage)
- Ryota Takeuchi : Darui (Raikage)
- Akira Ishida : Gaara (Kazekage)
Concernant l'intrigue du long-métrage, le magazine a également révélé que nous devrions assister au tournoi Chûnin de la nouvelle génération, avec des équipes venues des différents villages.
Pour finir, nous vous laissons avec la bande-annonce du film, dévoilée fin juin :
Ajouter un commentaire