Glasses, love and blue bird nouveauté de la collection Hana
Nouveau titre aux éditions Boy's love pour ce mois-ci avec la sortie cette semaine dans leur collection Hana du one-shot : Glasses, love and blue bird.

Un one-shot sorti en 2014 aux éditions Kaiôsha et signé Shiori Natsukawa, une toute nouvelle auteur.

La mangaka a pu y regrouper plusieurs histoires courtes dont la principale nous raconte l'histoire d'amour pleine d'innocence entre deux beaux lycéens : Kei le timide et Seiji le garçon le plus populaire de l'établissement !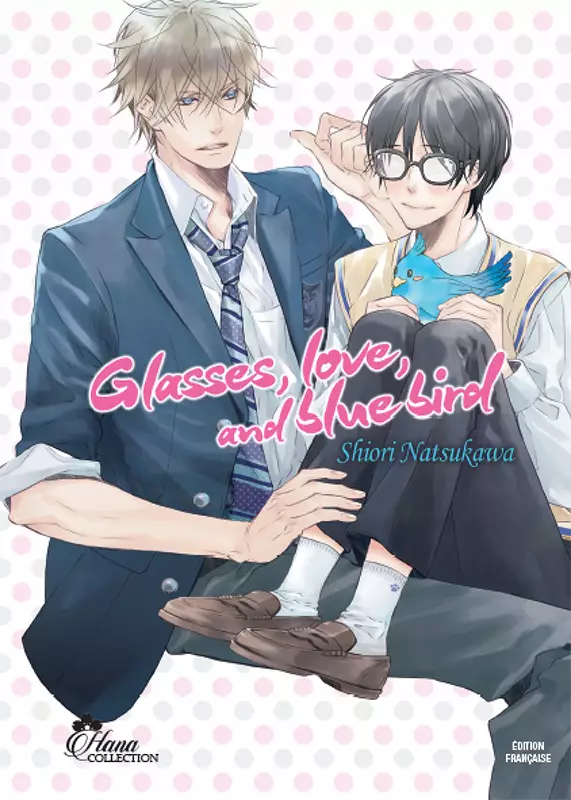 Passionné de mangas shôjos et d'histoires de romance, Kei est un lycéen qui ne rêve que de connaître l'amour. Mais avec son apparence et ses goûts étranges, il sait très bien qu'il ne risque pas de le trouver de sitôt... De quoi être jaloux de son ami d'enfance Seiji, beau et populaire ! Mais lorsqu'une fille de sa classe l'invite à un rendez-vous, Kei s'imagine être finalement sur le point de vivre son rêve. Aussi ne comprend-il pas pourquoi l'idée déplaît à ce point à Seiji... jusqu'à ce que celui-ci l'embrasse ! La romance viendrait-elle de là où Kei l'attend le moins ?
Ajouter un commentaire