La sortie de Gunbuster VS Diebuster chez Dybex se précise
Annoncée fin 2015 par Dybex, l'édition de Gunbuster VS Diebuster se dévoile enfin !

Cette édition regroupera les deux opus de la saga. Premièrement, Gunbuster Aim for the Top, qui a marqué le début d'Hideaki Anno en tant que réalisateur. Deuxièmement, Diebuster Aim for the Top 2! créé entre 2004 et 2006 pour fêter le 20e Anniversaire du studio Gainax, et qui transporte le spectateur près de dix mille ans plus tard.

Au total, il y aura 4 disques : 1 Blu-ray regroupant les 2 oeuvres en HD, 2 DVD contenant chacun l'une des deux oeuvres, et 1 DVD bonus. Ce dernier comprendra 90 minutes d'interviews du staff et du cast. L'image sera en 16:9 1080p (720p pour les bonus), l'audio en Japonais 5.1 DTS HD Master Audio, et les sous-titres en Français.

La date de sortie et le prix ne sont pas encore connus.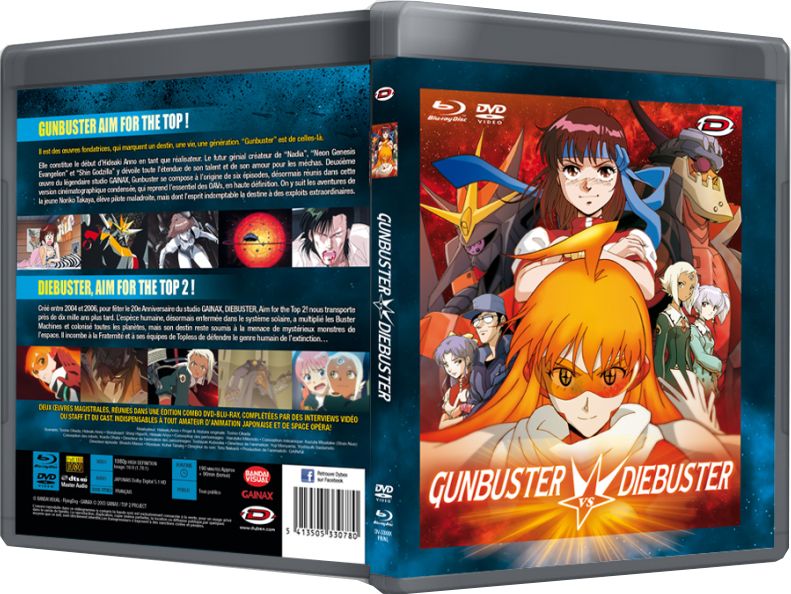 Noriko Takaya est la fille d'un militaire, capitaine du vaisseau spatial Luxion. Celui-ci mourra au combat dans la constellation d'Orion, sous l'assaut d'étranges créatures provenues du centre de l'Univers. Noriko choisira de suivre les traces de son père, et, adolescente, elle entrera à l'école. Survivant de l'équipage du Luxion, il marquera à jamais le destin de Noriko en la nommant copilote de Kasumi Amano, le meilleur pilote du Japon !


De longues années après la fin du premier Gunbuster, les aliens réapparaissent. Au même moment, certains humains naissent avec des pouvoirs psychiques les "topless" et eux seuls peuvent contrôler les nouveaux méchas, les Gunbuster, réunis dans l'Organisation la "Fraternité".
Ajouter un commentaire